GST: All you need to know about Auto-Drafted GSTR-2B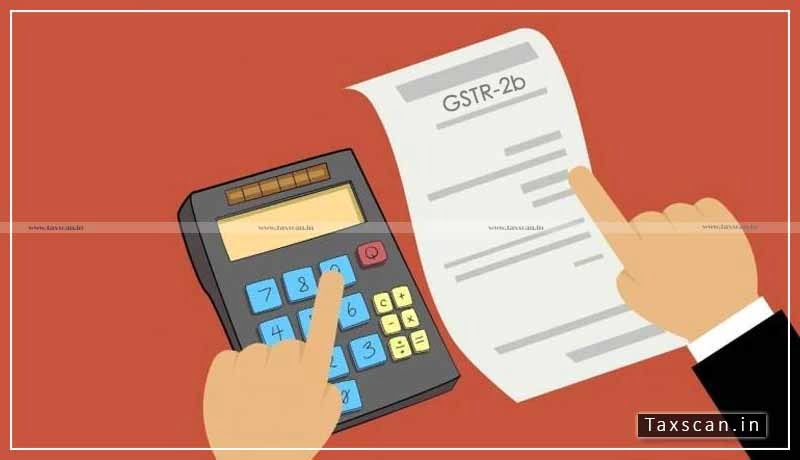 On the GST Portal, Form GSTR-2B is an auto-drafted ITC statement that will be displayed for every registered person on the basis of the information furnished by his suppliers in their respective GSTR-1, GSTR-5 (non-resident taxable person), and GSTR-6 (input service distributor). It is a static statement and will be made available for each month, on the 12th day of the succeeding month meaning no change will be made thereafter in GSTR-2B, unlike GSTR-2A which was dynamic.
Salient Features
1. Details on the import of goods fetched from the ICEGATE system
The GSTR-2B statement features details on the import of goods fetched from the ICEGATE system including details of inward supply of goods from Special Economic Zone units/developers. However, It is not included in the released version of GSTR-2B for the month of July but it will be made available soon
3. Summarised Statement
A summarised statement will indicate whether all the ITC available or not available under each section. The advisory provided for each section clarifies the action that can be taken by the taxpayers in the particular section under GSTR-3B.
4. Document-level details
Document-level details of all invoices, credit and debit notes, etc. with options to view and download.
5. How to View and Download Form GSTR-2B?
Step 1: Open a browser or new tab in the browser and head up to https://www.gst.gov.in. Website will be opened, log in to the GST Portal using your valid credentials. From the home page either click on "Return Dashboard" or navigate to Services > Returns > Returns Dashboard.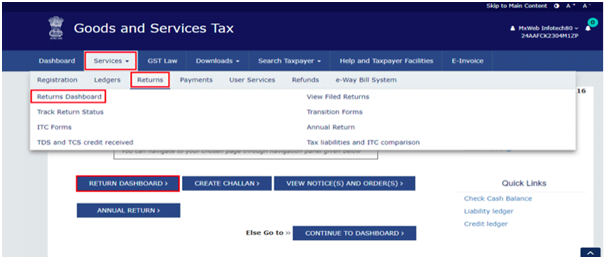 Step 2: File Returns page will appear, here using the drop-down menu select the Financial Year & Return Filing Period (Month) for which you want to view/download Form GSTR-2B. Click on the SEARCH button. Form GSTR-2B tile (Auto-drafted ITC Statement GSTR 2B) will be displayed with two options i.e. View and Download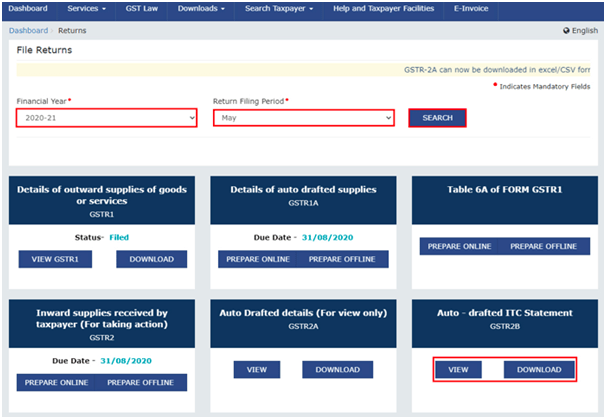 Step 3: Download GSTR-2B
It is noteworthy that if there are more than 1000 documents under all tables of Form GSTR-2B then document details can be downloaded in Excel / JSON format from the download option visible on the page founder of the Form GSTR-2B section. Click on the DOWNLOAD button to download the form GSTR-2B
Step: 4 Now, Click on either the Generate JSON File to download button or generate excel file to download button to download the Form GSTR-2B. The file will be downloaded and stored onto your drive.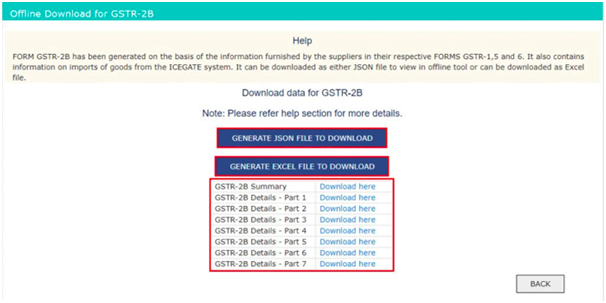 If in case you just have to view the From, Under the Form GSTR-2B tile, click on the VIEW button.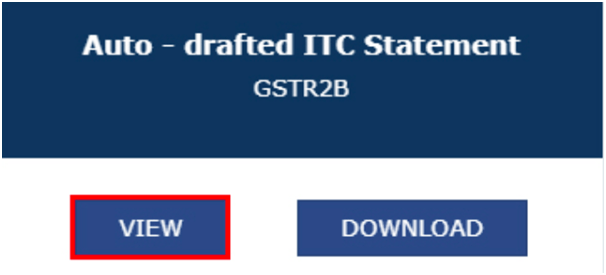 After clicking on the button the Form GSTR-2B – Auto Drafted ITC Statement page will appear. It has two tabs as Summary and All Tables.

Support our journalism by subscribing to Taxscan AdFree. Follow us on Telegram for quick updates.