Webinar series on Principles of Statutory Interpretation and Legal Maxims [Register Now]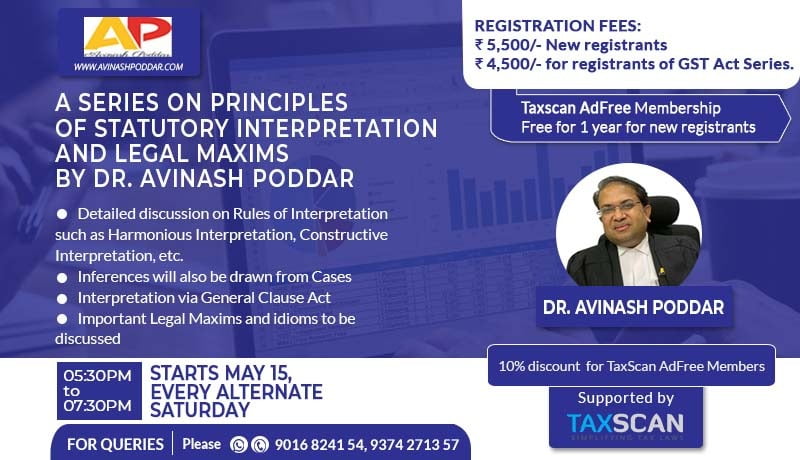 Dr. Avinash Poddar is conducting another webinar series on Principles of Statutory Interpretation and Legal Maxims. Supported by Taxscan, the series will contain detailed discussion on Rules of Interpretation such as Harmonious Interpretation, Constructive Interpretation, Interpretation via General Clause Act, etc. Inferences will also be drawn from Cases for better comprehension
And important Legal Maxims and idioms will also be discussed.

Sessions will start from May 15th from 5:30 PM to 7:30 PM. There will be sessions every alternate Saturday.
The registration fees for new registrants is ₹ 5,500/-. New registrants will also receive complimentary Taxscan AdFree premium subscription for one year.
For existing registrants of Dr. Avinash Poddar's GST Act Series, the registration fee will be ₹ 4,500/-.

Taxscan AdFree members can avail an additional discount of 10% on the registration fees. This offer is available for both new registrants and existing registrants of the webinar on GST Act Series.
Register now ! For Registration Click here.
NB: While registering, AdFree Members who are also registrants of GST Act Series need make payment of ₹ 4050/- . Make sure that touse the same email ID used for Taxscan AdFree and click on "persons who are registered for GST Act Series"while registering for this Webinar Series.
Support our journalism by subscribing to Taxscan AdFree. We welcome your comments at info@taxscan.in