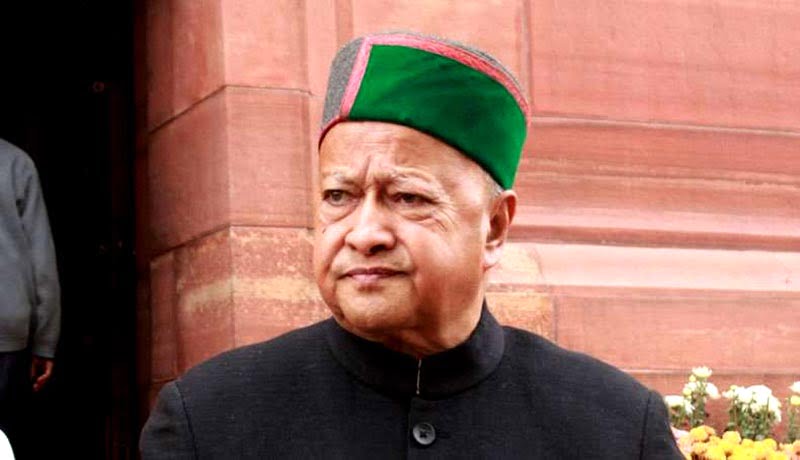 While dismissing a petition filed by Vidarbha Singh, the former Chief Minister of Himachal Pradesh, the Delhi High Court held that the ofences under the prevention of Money Laundering Act are 'cognizable'. It further clarified that the general guidelines governing the arrest procedure, as envisaged in the Code of Criminal Procedure or in terms of judicial decisions are equally applicable to the proceedings under PMLA also.
The division bench of the Delhi high court on Monday, refused to quash the disproportionate assets case against Himachal Pradesh chief minister Virbhadra Singh, who was accused in the disproportionate assets/money laundering case with his family members, had appealed to the court to quash the proceedings.
The Enforcement Directorate (ED) had earlier summoned Singh, his wife Pratibha, and son Vikramaditya, for questioning to do with the case. Currently, investigation under PMLA is going on against Singh and his family members on ground that they had amassed assets worth as much as Rs 6.1 crore between 2009 and 2011, which were disproportionate to his known sources of income at the time when Singh was Union steel minister. Accordingly, they filed a case against the chief minister and others under the Prevention of Money Laundering Act after taking into account a criminal complaint filed by the CBI.
In March 2015, an FIR had been lodged against Singh and his wife Pratibha in the case. Singh tried to get the FIR quashed saying it was "political vendetta" but the high court refused. Within hours, the CBI filed a charge sheet against them. Soon after, criminal proceedings began against Singh and others named in the case.
The ED had earlier termed as "premature" Singh's plea for quashing the money laundering case proceedings. They challenged the petition by stating that it is not maintainable as the inquiry into the matter was at a preliminary stage.
However, the bench dismissed the petition, the bench said that this is not the appropriate forum to examine such plea, which, in the interest of the petitioners themselves, must be left for it to be pressed, if they were so advised and if they have material to substantiate the same, at some appropriate stage in future.
While considering the question, whether offences under PMLA are cognizable or not, the bench observed that is the main objective of the Act is to create a machinery for investigation and enforcement outside the general system of investigation of crimes by police agencies. The Act is a complete Code which overrides the general criminal law to the extent of inconsistency.
"From the above, it is clear, that the Enforcement officers under PMLA do not require the powers of police for investigation as granted by the general law contained in Chapter XII of the Code of Criminal Procedure. On the contrary, to hold that the said part of Code of Criminal Procedure applies to PMLA investigations or proceedings would bring in inconsistency – in breach of the mandate of Section 65 PMLA. There is nothing in PMLA to indicate that the power to arrest conferred on the Director or the other specified officers is contingent upon formal authorisation by the court. Further, the law does not contain any clause from which it could be deduced that the authorization to the Director or other specified officers to take up the investigation or exercise any of the powers thereby conferred requires prior approval from the court in each case."
The bench, therefore, held that "notwithstanding the deletion of clause (a) of the then existing subsection (1) of Section 45 PMLA, by the amendment of 2005, the offences under PMLA continue to be "cognizable" in the sense that a person respecting whom there is a reason to believe to be guilty for such offence may be arrested by the officer empowered by the law in terms of Section 19 without the need of obtaining warrant of arrest from the court. Thus, the use of the expression "cognizable" in relation to PMLA offences would be different from the one applied for general law offences (say, IPC offences) and consequently, the definition of the expressions "cognizable offence" and "cognizable case" as appearing in Section 2(c) Cr. P.C. would have to be read and applied mutatis mutandis with suitable modification – that is to say, by substituting the words "a police officer" and instead referring to the officers mentioned in Section 19 PMLA."
It further noted that the powers vested with ED to make investigate into offences cannot be equated with the powers of Police Officers. "The general guidelines governing the arrest procedure, as envisaged in the Code of Criminal Procedure or in terms of judicial dicta, control the exercise of such power by them. The fundamental rights relating to criminal prosecutions, in general, and against self-incrimination, in particular, are not denied here. Similarly, the rights guaranteed to an arrestee including for authorization for continued detention as per the general criminal law continue to regulate and, for this purpose, Section 167 Cr.P.C. continues to apply mutatis mutandis, all references pertaining to the police or their procedure for investigation to be read appropriately modified in relation to officers empowered by PMLA to investigate."
Read the Full Text of the Judgment Here