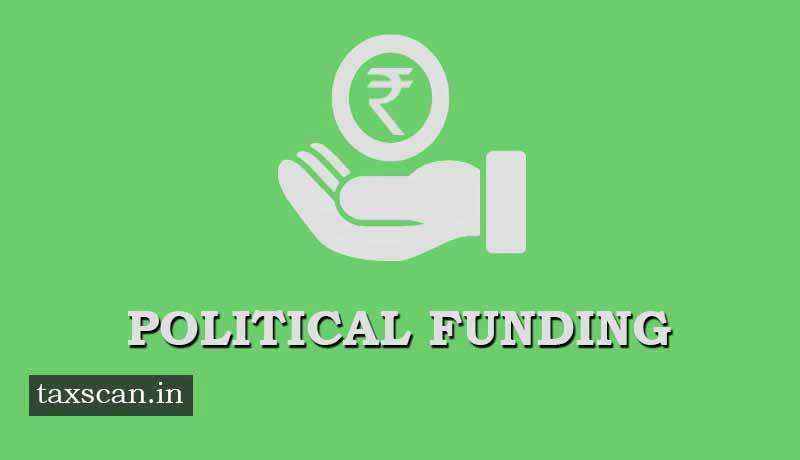 Two NGOs – Association for Democratic Reforms and Common Cause, have approached the Apex Court challenging the provisions of Finance Acts 2016 and 2017 on the ground that these provisions paved to unlimited, unchecked funding of political parties.
The petitioners challenged various amendments made through Finance Act 2017 and Finance Act 2016 in Companies Act, Income Tax Act, Representation of People's Act, Reserve Bank of India Act and Foreign Contribution Regulations Act.
A Bench of Chief Justice Dipak Misra, Justices AM Khanwilkar and DY Chandrachud admitted the petition and issued notice to the Central government and Election Commission of India yesterday.
Advocate Prashant Bhushan along with advocates Neha Rathi and Pranav Sachdeva appeared for the petitioners sought for a direction from the Court that the five major amendments which have been brought about through Finance Act, 2017 and Finance Act, 2016 shall be held as unconstitutional. Additionally, they also made a prayer that political parties must not be allowed to accept any cash donations.
According to the petitioners, the Finance Act, 2017, has introduced a system of electoral bonds to be issued by any scheduled bank for the purpose of electoral funding. The Act has also removed the previous limit of 7.5 per cent of the company's average three-year net profit for political donations with the result that unlimited political donations can be made by corporates without having to divulge the name of political parties they are funding. They claimed that the new amendments are a mala fide attempt to bypass the approval of the Rajya Sabha, which holds an important place in the Constitutional and democratic framework of law-making.
The petitioners also claimed that the consequence of these amendments is that corporates can make unlimited donations to political parties and need not give details of such donations. Also, now the annual contribution reports of political parties to be furnished to the Election Commission of India need not mention names and addresses of those contributing by way of electoral bonds. This will have a major implication on transparency in political funding, they said.
It was argued on behalf of the petitioners that "amendments in question have opened the floodgates to unlimited corporate donations to political parties and anonymous financing by Indian as well as foreign companies which can have serious repercussions on the Indian democracy. The said amendments have removed the caps on campaign donations by companies and have legalised anonymous donations."
"the amendments introduced through the new Finance Act, 2017 by the Ministry of Finance, passed as a money bill thereby bypassing the Rajya Sabha, are unconstitutional and violate of doctrines of separation of powers and citizen's fundamental right to information which are parts of the basic structure of the Constitution. The aforesaid amendments are also patently arbitrary, capricious and discriminatory as they attempt to keep from the citizens  crucial information regarding electoral funding," the petition reads.
Read the full text of the Petition below.