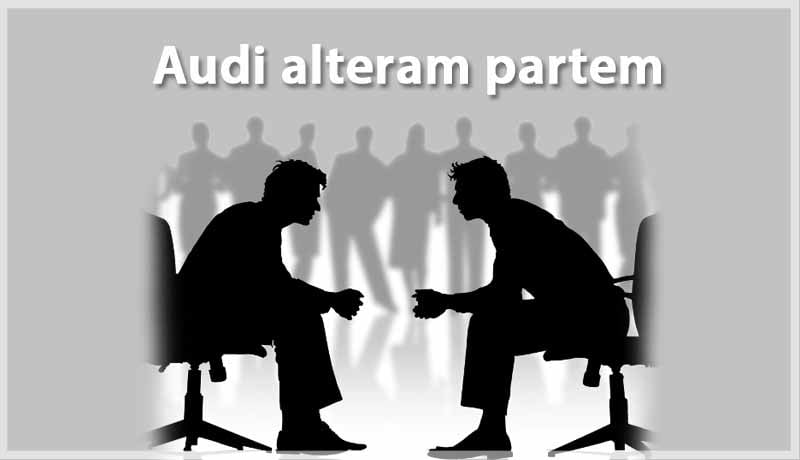 The Income Tax Appellate Tribunal (ITAT), Ahmedabad bench has held that the concept of "Audi alteram partem" being an essential element to preserve natural justice, should be followed in the tax proceedings.
The income tax return filed by the assessee-Company was rejected by the Assessing Officer on the ground of failure on the part of the assessee to submit the details, information, and explanations despite several opportunities provided during the assessment proceedings.
Noting the fact that, the assessee had already submitted the required documents before the first appellate authority, the Tribunal held that the matter needs to be reconsidered. Since the assessing authority did not verify those records, the Tribunal directed the authority to consider the same for completing the proceedings.
Referring to the Maneka Gandhi judgment pronounced by the Supreme Court, the Tribunal observed that "the principle of Audi alteram partem is the basic concept of natural justice. The expression "Audi alteram partem" implies that a person must be given an opportunity to defend himself. This principle is a sine qua non of every civilized society. The right to notice, right to present case and evidence, right to rebut adverse evidence, right to cross-examination, right to legal representation, disclosure of evidence to party, report of inquiry to be shown to the other party and reasoned decisions or speaking orders."
"We took this guidance for the right of hearing, from the ratio as is laid down by the Hon'ble Supreme Court in the case of Maneka Gandhi vs. Union of India, wherein Hon'ble Supreme Court has laid down that rule of fair hearing is necessary before passing any order. We find that it is a pre-decision hearing standard of the norm of the rule of Audi alteram partem. We are, therefore, of the view that matter requires reconsideration at the level of AO," the Tribunal said.
To Read the full text of the Order CLICK HERE