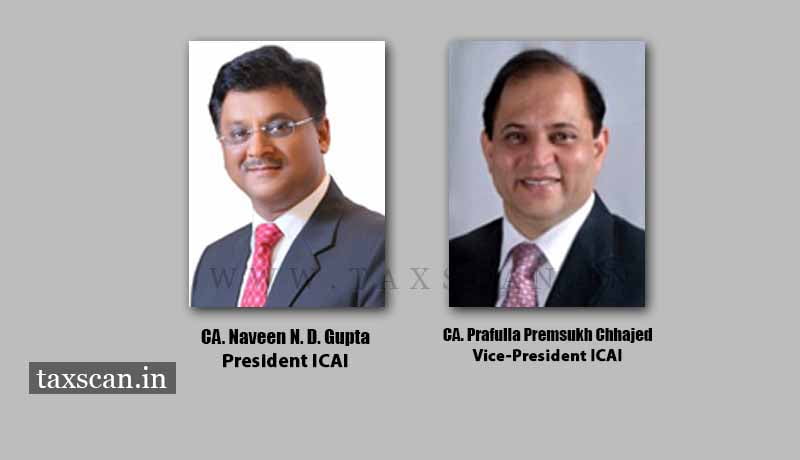 As the term of the current President of the Institute of Chartered Accountants of India ( ICAI ) will expire on February, the current Vice-President CA. Prafulla Chajjed will take over the reign of the ICAI for the year 2019-20.
While addressing the members, the ICAI Chief thanked all the persons for their active support, help, and cooperation.
CA Naveen N D Gupta said that "I have complete trust in his leadership and professional acumen and believe strongly that the profession will prosper and advance beyond all limits. I must congratulate him in advance and welcome too, to the High Office of Institute. While I know that the profession will be in safe hands, I am sure it will continue to attain new heights of success; it is bound to grow under the new Vision."
"Let me also thank the Vice-President and all my Central Council colleagues for their active support, help and cooperation which have eventually contributed in the furtherance of our professional success. I express my sincere gratitude to all of them. My thanks and gratitude is also due to my colleagues from Regional Councils, Branches and overseas Chapters, for being supportive in my entire professional journey of the Council Year 2018-19 as President and earlier as Vice- President in the year 2017-18. I thank each of them for reposing trust in my leadership and governance, and for sharing their opinion during the term. It wouldn't be complete if I do not express my sincere gratitude to our great past-Presidents for their timely intervention and advice whenever I approached," he added.
he further added that "Then, in the end, I wish to recall the contribution made and efforts put in by the employees of the Institute. I must put this on record and acknowledge that they have put in their best towards the fulfillment of the vision and agenda of our profession, working always beyond comfort and working hours, working on leaves, and working even in difficult situations. With this degree of dedication, I am sure, our profession will continue to grow its momentum of growth in the future too."