CBI launches Operation Chakra-II against Organized Financial Cyber-Crimes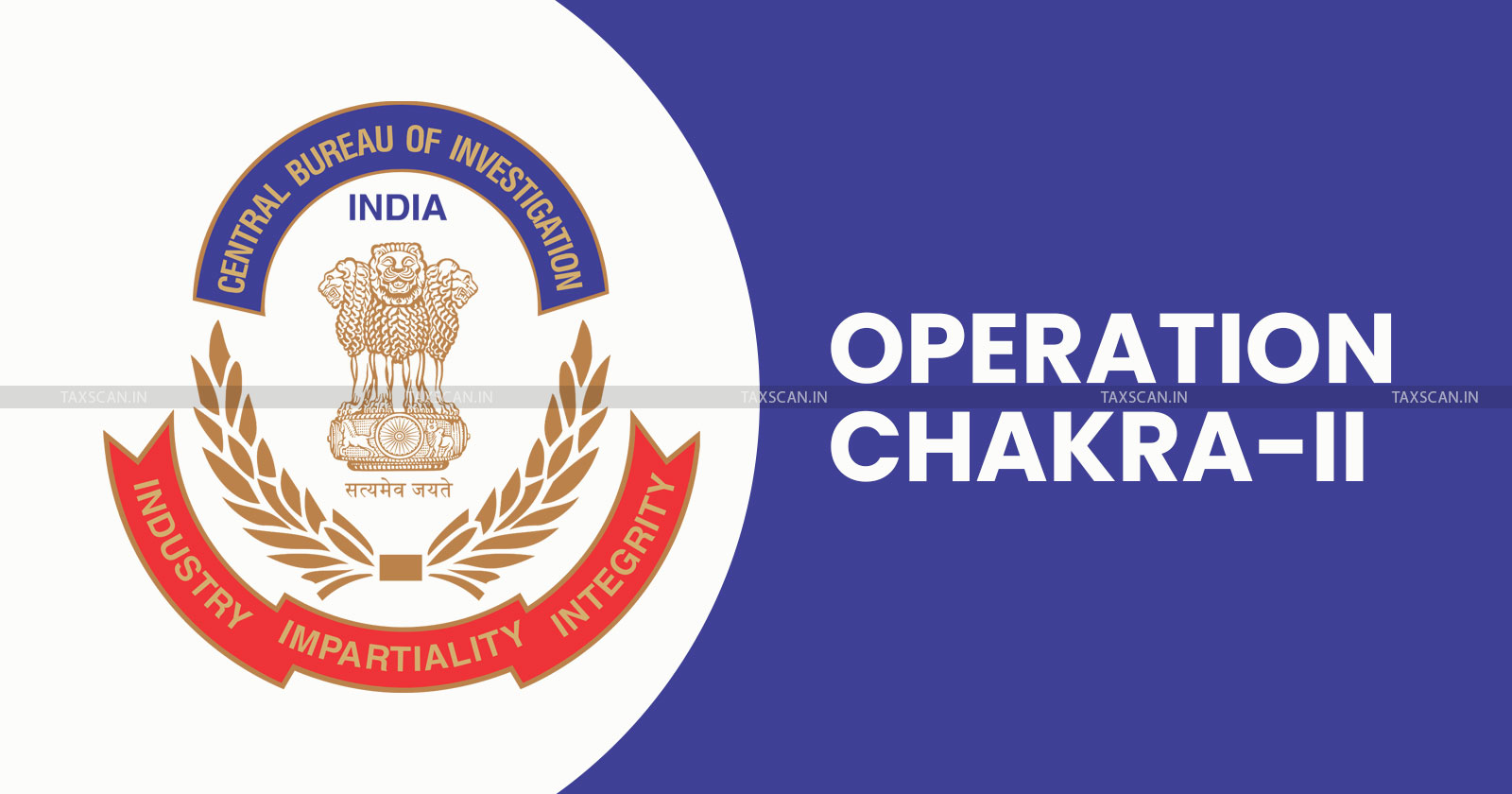 In an ongoing battle against transnational organized cybercrime networks, the Central Bureau of Investigation (CBI) has initiated "Operation Chakra-II".
This operation aims to thwart and dismantle the infrastructure of organized cyber-enabled financial crimes within India. In an impressive collaborative effort, the CBI worked in tandem with national and international agencies, as well as private sector giants.
During a nationwide crackdown, the CBI executed intensive searches in five separate cases across 76 locations spanning multiple states. These included Madhya Pradesh, Uttar Pradesh, Karnataka, Haryana, Kerala, Tamil Nadu, Punjab, Bihar, Delhi, West Bengal, and Himachal Pradesh.
As a result of Operation Chakra-II, authorities seized 32 mobile phones, 48 laptops/hard disks, images of two servers, 33 SIM cards, and pen drives. Multiple bank accounts were also frozen. Additionally, the CBI confiscated a cache of 15 email accounts, which shed light on the intricate web of deceit spun by the accused.
Among the cases targeted in Operation Chakra-II, two instances of International Tech Support Fraud Scams were unveiled. In these cases, the culprits impersonated a global IT major and a multinational corporation with an online technology-driven trading platform. The accused operated multiple call centers across different states and systematically targeted foreign nationals, posing as Technical Support Representatives.
The fraudulent activities associated with these call centers had persisted over the past five years, with the perpetrators utilizing various international payment gateways to move illicitly acquired funds. These scammers posed as customer support agents for reputable tech firms, convincing victims that their computers had technical issues, ultimately making them pay hundreds of dollars for unnecessary services.
The victims of these scams primarily hailed from the US, UK, Germany, and other countries. Two separate cases were registered against eight private companies and others on these allegations.
Furthermore, Operation Chakra-II, fueled by critical intelligence from the Financial Intelligence Unit-India (FIU-India), exposed a sophisticated cryptocurrency fraud operation. Under the guise of a fake crypto mining operation, this scheme targeted unsuspecting Indian citizens, resulting in losses exceeding Rs. 100 crore.
The fraudsters created a fictitious cryptocurrency token, luring investors with promises of substantial returns from investments in bitcoin and other cryptocurrencies mining. They even used the image of a renowned Indian American Crypto Technologist on a website to mislead investors. The app operated until August 2021, during which time unsuspecting Indian citizens invested through various payment gateways and aggregators integrated into the app. The accused allegedly amassed approximately Rs. 168.75 crore (approx.), leaving investors in financial distress.
Investigations revealed that the fraudsters developed dedicated applications to further deceive their victims. A total of 150 accounts were identified, including accounts of 46 shell companies, 42 proprietorship firms, and 50 individual accounts, which served as conduits for collecting funds from the public and laundering the received funds.
Based on the evidence gathered during Operation Chakra-II, law enforcement agencies across the globe are being notified of identified victims, shell companies, money mules, proceeds of crime, and co-accused/support elements for comprehensive action to dismantle these criminal networks.
The CBI is working closely with international counterparts, including the Federal Bureau of Investigation (FBI) of the USA, Cyber Crime Directorate and IFCACC of INTERPOL, the National Crime Agency (NCA) in the United Kingdom, Singapore Police Force, and BKA of Germany to notify further leads.
In 2022, the CBI initiated "Operation CHAKRA," an INTERPOL-assisted global action aimed at combating and dismantling organized cyber-enabled financial crime networks. These increasingly sophisticated crimes encompass impersonation scams, mail scams, phishing scams, romance scams, lottery scams, and more, leaving large numbers of innocent victims to suffer significant losses.
These organized criminals have global footprints and deploy advanced techniques, making global law enforcement coordination crucial in addressing this growing threat.
As part of operation Chakra-II, the Central Bureau of Investigation continued its crackdown on cyber-enabled financial crimes, achieving comprehensive success in two more cases.
In 2022, based upon various inputs, including the one given by the Indian Cyber Crime Coordination Centre (I4C) under MHA, the CBI registered it's first Operation Chakra case against sophisticated, organized cyber crime being perpetuated on Indian citizens, by foreign scamsters in the name of investment, loan and job opportunities.
The second case was registered against unknown individuals on the allegations of Cyber enabled financial crimes targeting Singapore Citizens. The inputs in the matter were received from Singapore Police Force via INTERPOL channels relating to over 300 cyber-enabled frauds against Singapore Citizens involving more than 100 Indian Bank accounts, spread across ten (10) States/UTs. It was further alleged that these criminals employed a variety of cyber techniques, including social engineering methods such as phishing, vishing, smishing, and fraudulent tech support, targeting over 400 Singapore Citizens.
Investigation in these cases is ongoing.
Support our journalism by subscribing to Taxscan premium. Follow us on Telegram for quick updates