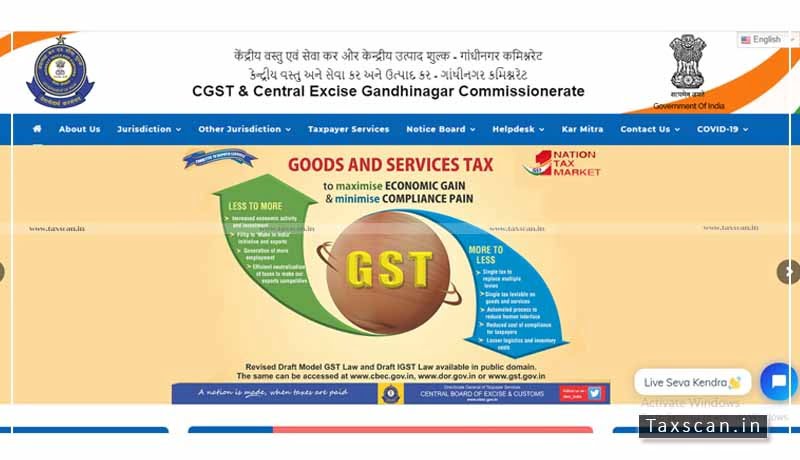 The CGST & Central Excise, Gandhinagar Commissionerate announced that a new website for the commissionerate has been launched and is accessible to all through URL www.cgst gandhinagar.gov.in.
The newly created website has the information for public and/or department use namely trade notices/ circulars; establishment orders; taxpayer services; tender/ auction notices; E-Helpline desk; quasi judicial orders/appeal orders and links to other Government Websites.
The commissionerate has also launched Live Seva Kendra functionality on the said website. Live Seva Kendra functionality is a platform for direct communication between the taxpayer/ user and the officer.
In the current scenario, when COVID-19 is spreading at a rapid pace, it is difficult to visit Seva Kendra and interact with the officer to get the queries resolved.
Therefore, Live Seva Kendra is envisaged as a tool to facilitate taxpayers in such a way that they don't need to visit Seva kendra for any enquiry assistance and rather get to interact with the officer directly on a real time basis through an online platform to clarify their doubts, queries.
"Live Seva Kendra is chat functionality where taxpayers after providing basic details such as E-mail ID, Phone No., and GSTIN, can interact with the officer. The concerned officer of live Seva Kendra will listen to the doubts/ queries of the taxpayers and will answer the basic queries on a real-time basis or reply through email, wherever required. Live Seva Kendra will remain active from 9:30 AM to 6:00 PM on all working days. Queries will be answered on a real-time basis during the said period and through e-mail, if any query is submitted during off-hours," the commissionerate in the trade notice said.