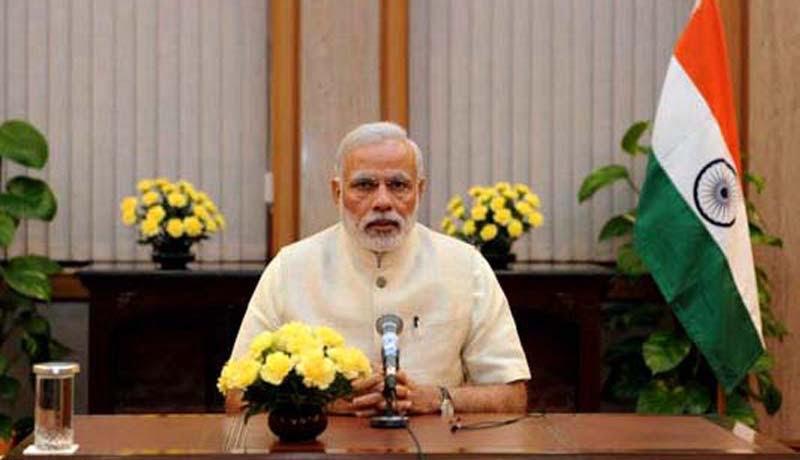 Prime Minister Narendra Modi yesterday appealed people to disclose their undisclosed income by September 30, making it clear that this is the last chance to avoid problems that will follow after the window of opportunity closes.
Modi in his speech said, "I want to make a special appeal for one thing. There was a time when taxes were so pervasive, that it became a habit to avoid taxation. There was a time when there were many restrictions imposed on bringing foreign goods into the country which gave rise to a lot of smuggling. But gradually, times have changed. Now it is not very difficult for the taxpayer to get connected with the taxation system of the government. But even then, old habits die hard. One generation still feels that it is best to keep away from the government. Today I want to impress upon you that we end up losing our peace of mind by trying to escape from rules and regulations. As a result, anybody can trouble and harass us. Why should we let this happen? Why don't we, on our own, give the correct details of our income and property to the government, so that we can rid ourselves from the burden of hitherto undeclared assets? I appeal to the countrymen to do this. To the people who have undisclosed income, the Government of India has given a chance to declare such income. The government has presented before the country a special facility to disclose undisclosed income by the 30th of September".
"We can be free ourselves of various burdens just by paying a fine. I have also promised that for those who voluntarily declare to the government their assets and their undisclosed income, then the government will not conduct any kind of enquiry. Not once will it be asked as to from where all this wealth came and how it was acquired. And so, this is a good chance for you to become a part of a transparent system. At the same time, I want to tell the people of the country that please consider this plan, which is up to 30th September as your last chance. In between, I had even told the Members of the Parliament that after 30th September if any citizen is put through any difficulty, the one who does not want to follow due rules of government, then it will not be possible to help them. I want to say this to the people of the country that we do not wish that after the 30th September anything should happen that will cause difficulties for you. And so I say that please avail of this facility before this date and save yourselves from any possible trouble after the 30th of September", he also added.
Read the relevant part of his speech below;
"The common man of this country is always looking for a chance to do something for the country. When I asked the people to give up their cooking gas subsidy, more than 1 crore families of this country voluntarily gave up their subsidy. And now I want to cite an example especially for those people who have undisclosed income. Yesterday when I went to Pune for the Smart City program, over there I got the chance to meet Shri Chandrakant Damodar Kulkarni and his family. I had called them especially to meet me. And what was the reason? Anyone who has ever evaded tax, my words may or may not inspire that person, but the example of Shri Chandrakant Kulkarni is sure to inspire him. Do you know what the reason is? Shri Chandrakant Kulkarni is an ordinary man who belongs to an average middle-class family. He used to work for the government. Then he retired. He receives a pension of sixteen thousand rupees. And my dear countrymen, you will be surprised to hear, and those who are in the habit of evading tax will get a shock to know that Chandrakant Kulkarni Ji, who gets a pension of only rupees sixteen thousand, some time back wrote a letter to me saying that out of his pension of 16,000, he voluntarily wants to donate Rs. 5000 per month for the Cleanliness Campaign. And not just this, he sent me 52 cheques, post-dated, which bear a date for each forthcoming month. We certainly do not have any right to evade tax in this country where there is one such government employee, who after retirement, out of a pension of mere sixteen thousand rupees, gives five thousand for the Cleanliness Campaign. No one could be a greater source of inspiration than Chandrakant Kulkarni. And for the people who are associated with the Cleanliness Campaign also, there could be no better inspiring example than Chandrakant Kulkarni. I called Chandrakantji face to face. I met him and his life has touched my heart. I express my felicitations and admiration for the Kulkarni family, I congratulate them. And surely there must be countless people like them about whom I have no information. These are the very people… and this is the power and strength of the masses. A man with a pension of sixteen thousand rupees sends me cheques worth two lakhs, sixty thousand in advance, is this a small thing? Come, let us search deep down inside our hearts, and ponder over the fact that the government has given us an opportunity to disclose our incomes. While thinking of Chandrakant Kulkarni, let us also follow him".