ICAI issues Advisory to candidates appearing for CA Examination November 2020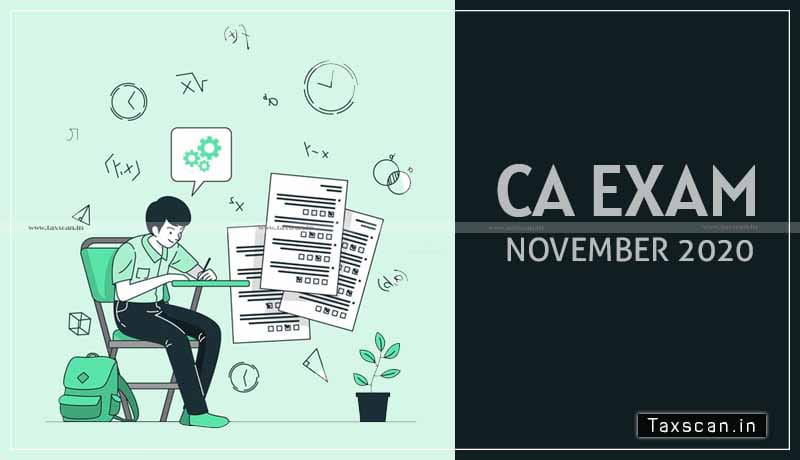 The Institute of Chartered Accountants of India (ICAI) issued the Advisory to the candidates who are appearing for CA Examination in November 2020.
The Institute has come across postings on Social Media by some students stating that despite being tested COVID-19 positive, they intend to appear for the CA Examinations in November 2020.
The ICAI while warning the candidates stated that such actions on part of the candidates would not only endanger the health and safety of other candidates and the examination personnel but also amounted to a contravention of the law and the directions of various authorities.
"The Institute is wholly committed to the wellbeing of its students who intend to appear in the ensuing examinations commencing from 21.11.2020. They need not entertain any apprehensions created by such elements," the ICAI said.
The Institute highlighted that the Ministry of Health & Family Welfare, the Government of India has issued SOP on preventive measures to be followed while conducting examinations to contain the spread of COVID19.
As per the SOP, if a candidate is medically reported to be COVID-19 positive, he/she cannot be allowed to enter the examination center and appear for any examination and any contravention of the SOP will be punishable under Section 51 of the Disaster Management Act, 2005.
ICAI also issued Guidelines for Examination Centres, Examination functionaries and Candidates for November 2020 CA Examinations in wake of ongoing pandemic Novel CoronaVirus (Covid-19), whereby inter alia the following was mandated, "all candidates must ensure before reaching the examination center that they do not have any symptom or suffering from COVID-19 disease."
The ICAI said that if the candidates, who are medically reported to be COVID-19 positive, appear for the forthcoming examinations, such acts are culpable in nature by reason of being done with Mens Rea or criminal intention to cause harm to others and punishable under Sections 270, 278, and other associated provisions of the Indian Penal Code.
"It is brought to the notice of all concerned that such persons who are involved in circulating, raising false alarm or severity of magnitude, leading to the panic of covid-19 shall also be sternly dealt with under the provisions of section 54 of the Disaster Management Act by reporting the matter to the concerned authorities. Besides the above such rumor mongers or intimidators or persons threatening the candidates not to appear in the examination etc. shall also be dealt with appropriately in accordance with law," the ICAI said.
It is noteworthy that if anyone is found indulging in false rumor-mongering regarding disaster or severity of magnitude, leading to panic with respect to covid-19 shall be appropriately dealt with in accordance with law.
For more details Click here.