ICAI elects New President and Vice-President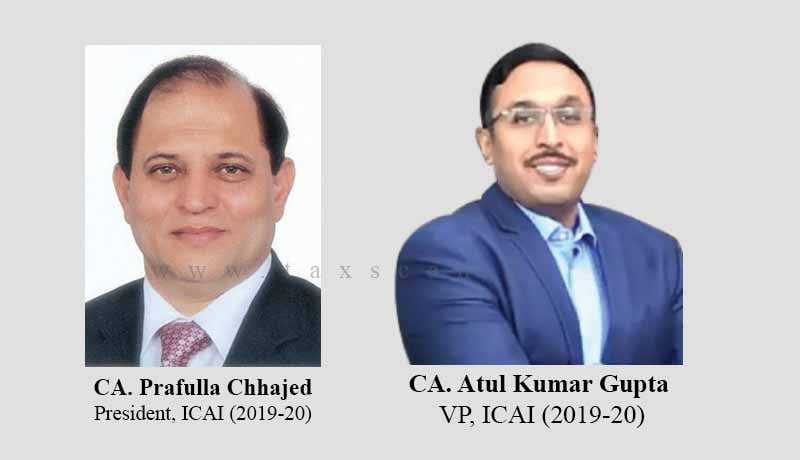 The Institute of Chartered Accountants of India ( ICAI ) has elected new Torchbearers for the year 2019-20. The tenure of the current President CA Naveen N D Gupta expired this February.
Prafulla P. Chhajed, President, ICAI is the crusader of inclusive growth in the accountancy profession, CA. Prafulla P. Chhajed has been elected as President of The Institute of Chartered Accountants of India on February 12, 2019, for the term 2019-20. He is 67th President of the Institute.
With commendable professional acumen and standing, at present, he is the Chairman of the Board of Directors of ICAI-ARF (Accounting Research Foundation) and XBRL India. He is also one of the Directors of Indian Institute of Insolvency Professionals of ICAI, which incidentally is the first Insolvency Professionals Agency (IPA) of India. He is also on the Boards of various other reputed companies/ corporate and banks.
Coming from the industrial capital of India, i.e. Mumbai, CA. Prafulla Chhajed has a very well-defined vision and mission, which is to pursue the agenda of inclusive growth and take the Institute and accountancy profession of India to greater heights so that its members could stand tall and strong before the accountancy fraternity of the world.
In the last 16 years, CA. Prafulla P. Chhajed has contributed more than 600 articles and write-ups on Taxation and Investments in the well-known Marathi daily- Maharashtra Times.
Atul Kumar Gupta is a fellow member of the Institute of Chartered Accountants of India and the Institute of Cost Accountants of India, besides a Law Graduate. Hailing from Delhi, he is also a member of various other professional bodies and Institutions. CA. Atul Gupta is a thorough scholar and has qualified CA examination with All India Rank.
An altruistic hard-worker bestowed with exceptional organizational, networking, administrative and leadership skills, at present, he is serving as Director of Accounting Research Foundation (ARF) of ICAI for promoting research in field of Accounting and XBRL India and is Member of more than 15 Committees of ICAI. He is also a Member of Advisory committee for GST in GSTN Board (Government of India IT Initiative for implementation of GST in India) and Member of Finance Committee of Delhi Management Association.
Atul Gupta has authored several books & his articles have also been published in leading newspapers and various professional magazines across the country.