ITAT holds its first bench at Jammu ICAI Premises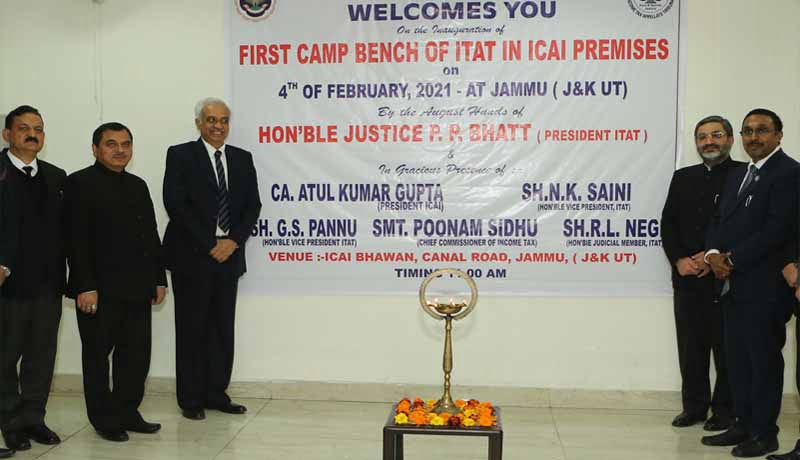 ICAI, being a true Partner in Nation Building has always collaborated with various initiatives of the Government, Regulatory authorities, etc. for facilitating the implementation of various policies/ measures for the development of the economy.  
The Institute of Chartered Accountants of India (ICAI) had entered into an MOU with al (ITAT) whereby ICAI extended the facility of using ICAI infrastructure at branches for conducting camp hearings of ITAT as and when required at ICAI branches& offices across the country including Srinagar & Ladakh. It may be recalled that this arrangement was announced in the presence of Hon'ble Chief Justice of India Justice S. A. Bobde, during the 79th Foundation day celebration of ITAT held at New delhi in January 2020. 
The First Camp Bench of Income Tax Appellate Tribunal (ITAT) in the premises of ICAI was inaugurated by Hon'ble Justice Sh. P. P. Bhatt, President, ITAT at Jammu in the presence of Sh. N.K. Saini, Hon'ble Vice-President, ITAT, Sh. (CA.) G.S. Pannu, Hon'ble Vice-President, ITAT, CA. Atul Kumar Gupta, President ICAI, Smt. Poonam Sidhu, (IRS), Chief Commissioner of Income Tax, and Sh. R.L Negi Hon'ble Judicial Member, ITAT. The leading Members of the Bar, Both CA's and Lawyers appeared before the camp benches and a significant number of old appeals were disposed of. Incidentally, this camp bench was held after a gap of almost five years and it was wholeheartedly welcomed by the taxpayers, tax professionals as well as the Income Tax Department.
On the occasion, Hon'ble Justice P.P. Bhatt appreciated the endeavor of the ICAI in providing its infrastructure for the cause of justice and said that this initiative shall go a long way in establishing the idea of justice at the doorstep to the taxpayers, which would ultimately result in ease of doing business for the citizens of the country.
Speaking on the occasion CA. Atul Kumar Gupta, President, ICAI said "ICAI is a body set up under the Act of Parliament and has always been in the forefront in assisting all such activities which further the cause of justice. ICAI has a vast network of branches with the required infrastructure. This initiative will help in increasing the outreach program of the ITAT to provide justice at the doorstep."  Sh. M P Singh, (CIT Appeals), Sh. S K Sharma (Addl CIT ), Sh. Rakesh Kumar (Addl. CIT), CA. Pramod Jain, Central Council Member ICAI, Executive Committee Members of Jammu, Kashmir, and Ladakh Branch CA. Lalit Kumar Gupta, CA. Shalay Razdan,  Past Chairman, (JK ICAI), CA. Nakul Saraf, Secretary, (JK ICAI)  along with other Former Chairmen of the branch, Chartered Accountants, Advocates, and Officials of Income Tax Department were also present on the occasion.