Simplified: Master Class on Input Tax Credit – Legal & Practical Controversies and Way Forward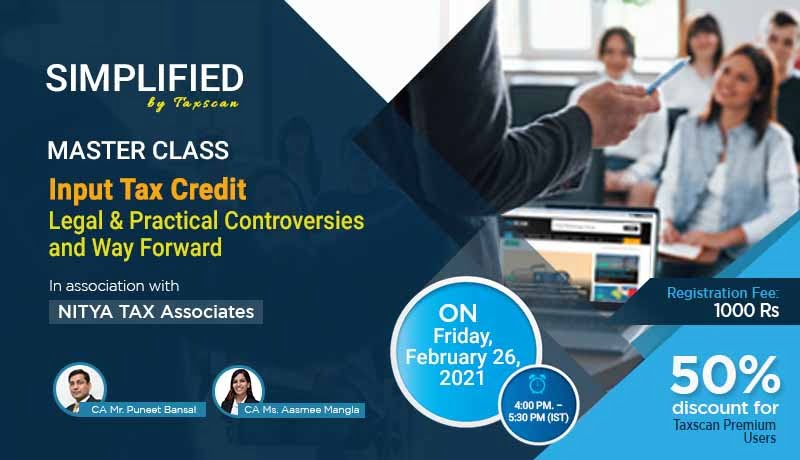 Taxscan in association with NITYA Tax Associates is pleased to announce our next program under Simplified series, a webinar on 'Input Tax Credit – Concept and Practical Issues'.
Input Tax Credit (ITC) is one of key elements of Goods and Services Tax (GST) regime and seamless flow of ITC has always been the objective of Government. However, disputes regarding transition of pre-GST credits into GST regime are pending in Courts in large numbers and far from getting settled. Unfortunately, ITC is an area of debate and utter confusion since beginning.
Managing Partner, Mr. Puneet Bansal and Managing Associate, Ms. Aasmee Mangla of NITYA Tax Associates will be the speakers of the Webinar which will be followed by Live Q&As. The Webinar will happen between 4:30 PM and 5:30 PM on Friday, February 26th. Stay tuned for more information.
The registration fees is ₹1000. Taxscan premium users can avail a special discount of 50%.
The Students can also avail special discount.
Features:
Digital/Physical Certificate
Live Q & A
Course contents / reference materials. For any clarification, Contact: siddharth@taxscan.in, Ph: 07012001870
For Registration Click here.
For Payment Click below.