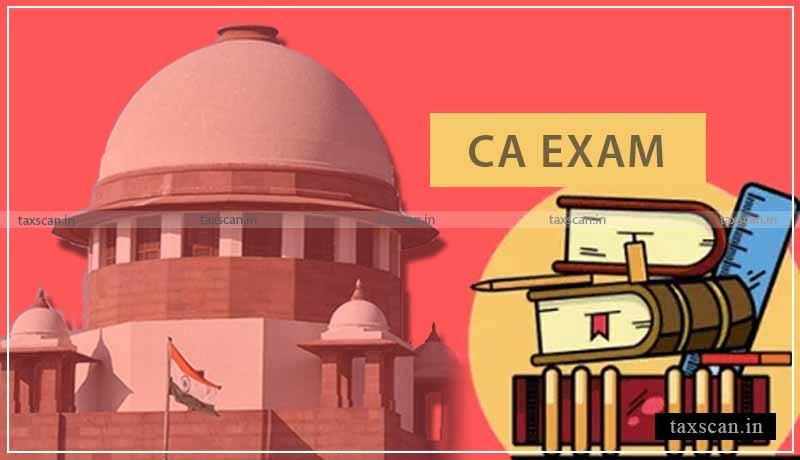 The Petitioners approached the Apex Court seeking directions, in relation to the upcoming physical examinations that are being conducted by the Institute of Chartered Accountants of India (ICAI) from November 1, 2020 to November 18, 2020, which are by far the longest scheduled set of examinations, scheduled to be conducted during the outbreak of the COVID-19 pandemic.
It was most clarified that the Petitioners are in no way seeking postponement/ deferment/ cancellation of the examinations scheduled in November, 2020.
However, given the present circumstances, the Petitioners, by way of the present Petition, seek Court's indulgence such that appropriate and suitable directions may be given to the Respondents herein to ensure major aspects.
Firstly, the exams scheduled to be conducted by ICAI at a massive scale are in due and strict compliance with the Standard Operating Procedure (SOPs) issued by the Govt. of India through the various Ministries, as well as the various States/Union Territories across the Country, to ensure that the necessary safety protocols are in place which would prevent the spread of Coronavirus in the exam halls and the vicinity of the exam centres, among the candidates and the staff members and thereby, prevent jeopardy to public health at large.
Secondly, such other appropriate measures may be taken to overcome the additional considerations and challenges that hinder the protection of the fundamental rights guaranteed to the Petitioner Candidates and the similarly situated candidates under Articles 14, 19 and 21 of Constitution of India.
Therefore, the petitioner submitted that it is imperative that Govt. of India and the ICAI take effective steps with great care and caution as the upcoming exams are not going to conclude in just one day.
As the exams shall carry on for a period of 18 days, the Petitioner Candidates are of the view that ICAI, being a reputed institute, must discharge its duties in the interest of the candidates and public safety at large.
A Bench led by Justice AM Khanwilkar has asked Advocate Bansuri Swaraj to serve the copies to the Central Government and the Institute of Chartered Accountants of India (ICAI), and has listed the matter for hearing on November 2, 2020.