What is a GST emSigner? How to Restart The emSigner?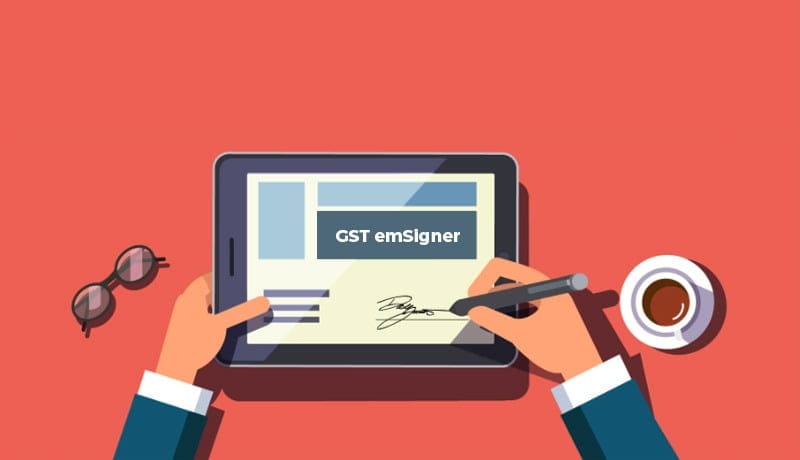 In case you are suffering from errors in emSigner, then you can restart your emSigner. But how? Yes, we are here exactly for this cause. We would love to share with you the details on what the emSigner is and how to restart it if needed.
What is a GST emSigner?
A GST emSigner is a quite effective utility that helps to send, track and maintain smart documents. One can also archive their smart documents. This GST emSigner gives your company faster and secure signing of documents. In general, a GST emSigner is used to sign GST registration forms digitally. Also, it can be used in GST return filing.
But sometimes while working with a GST emSigner, you may come across some disturbing lines like "error! Not able to create the connection to the server. kindly restart the emsigner". In that case, what should you do? Yes, you get it right. Today we will discuss this fact so that next time you will come across this malfunction, you can get relief from these types of malfunctions. This error can be shown when you are trying to file a GST return or you are going to try registering DSC in the GST portal. DSC i.e. Digital Signature Certificate is a must-have for this purpose. DSC helps to identify if the user is bona fide or not. Handwritten signatures have been replaced by this utility service in the GST portal.
Why does the GST error take place?
A GST error or emSigner error can take place for various reasons. But one of the most basic reasons is a change in ports.
Back in the time, emSigner was connected with 1645- https://127.0 0.1:1645 port
The latest version of emSigner goes for a new port: 1585- https://127.0.0.1:1585
Process of Restarting emsigner- How to fix the issue
This emSigner error can come across in various internet browsers like Internet Explorer, Google Chrome, Mozilla Firefox.
To resolve the issue, you need to follow some simple steps:
Go to the Start menu
Tap on the Control panel
In Control Panel, go to Adjust Your Computer Settings
Navigate to the programs
Go to Uninstall a program
Right-click on the emSigner application
Press uninstall
Hereafter installing the old version of the application, you need to start going for the below-mentioned steps.
Go to the website: https://services.gst.gov.in/services/login
Go to the Goods and Service Tax home page
In the help and taxpayer facilities tab, go to System Requirements
Go to Downloading and Installing the web socket installer
Now you are able to download the Web Stock emSigner from the portal https://www.gst.gov.in/help/docsigner
Open the downloaded file emSigner.msi file
Now your desktop screen will show a setup box for the emSigner Setup window
Click Next on the Window
Choose the folder where you wish to download and save all the files and folders related to the emSigner setup
Tap on Next
Now your application is ready to install
Click on Install
Your installation process will be finished soon
After the process is done, Tap on Finish
You will get to visit a shortcut icon for the emSigner application
Run that application
A new window will open
Click on the Run As Administrator
Now you can see the message which is showing emSigner service has started
Press OK
After your successful completion of restarting the new emSigner application, automatically the DSC Window or the Digital Signature Certificate window will appear on the screen. ( Also check for DSC errors)
Now after you are done completely, you need to restart your pc once
After restarting your pc check that your emSigner working properly
You can also upgrade your internet browser to the latest version for your convenience to stay up to date with your internet browsers.
Conclusion
Hope this guide will help you in every possible situation for restarting emSigner on your pc. For any other emSigner related issues, kindly visit our website and get all the solutions only on our website.